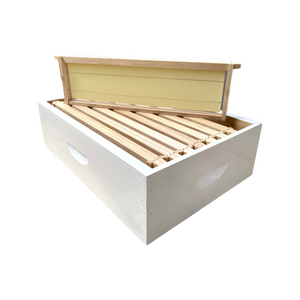 Ideal Super with Frames & Beeswax Foundations
Ideal (half size) supers are great for cool climate beekeeping and this little package is ready to put on top of your growing hive. 
Our supers have been hot wax dipped at 165 to 170 degrees and painted - a great weather proofing technique ensuring longevity in an Aussie climate. 
Frames and foundations are also made by us using sustainably grown New Zealand plantation pine and 100% pure Victorian beeswax. 
Our pine is CNC cut by Alliance Woodware (ProWood) in NZ.