waggle & forage beekeeping supplies
Alliance Beekeepers Woodware
Waggle & Forage are Australian distributors of Alliance Woodware, New Zealand. Grown from sustainably managed radiata pine plantations Alliance Woodware are FSC Certified. Our supers and frames are available wholesale by the pallet, single flat-packs, or assembled, wax-dipped and painted by us, right here in Kyneton.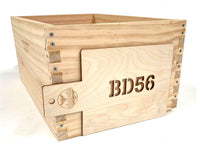 Customised Beehive Stencils!
Display your registration number on hive boxes to comply with industry requirements. Buy your customised registration number stencil from our beekeeping supplies shop.
SHOW ME MORE
The Australian Beekeeping Manual
* New 2nd Addition (includes Flow Hives) *
Written by a highly respected Australian Beekeeper, Robert "Bob" Owen, The Australian Beekeeping Manual is the most comprehensive reference for both the novice and experienced beekeeper.
$39 (RRP $59.95)
Buy Now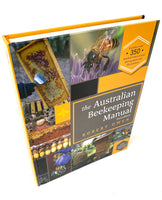 the buzz about waggle & forage
Amazing service and top quality workmanship in products. Highly recommend for all your bee needs. Thanks again. 

A. Green, February 19, 2021
Excellent quality frames and lovely people to boot!

M. Parolin, December 13, 2020
Updated some tools and the online shopping was super simple thanks
Selena ....Thyme Cottage.

S. Smith, January 20, 2021
I happily recommend this lovely business. Worth the drive and lovely people at Waggle & Forage 😊💗

C. Gerdsen, August 8, 2021
Fabulous people to deal with, purchased some hive beetle traps and a few things from them a while back and she delivered to Woodend for me.

A. Fox, August 8, 2021
Great supply of most apiary supplies with a helpful and as important knowledgeable proprietors.

E. Redman, April 2022
Dropped by to buy some supplies last weekend, and were blown away by the service and knowledge of both Jo and Ally. They were both extremely friendly and were able to help me with all of my questions. The have a brilliant range of stock and the quality of their hive boxes is amazing. I'm so glad that l found you guys! I'll definitely be back :)

J. Konyn, September 2021
Can't recommend this amazing team enough. I am brand new to bees and Ally was really helpful. Great store, light and bright and will definately be back.

D. Barnett, December 2021
Thank you for the fantastic service and super fast door to door delivery!

Highly recommend.

K. Kinclova, October 2021
Buy Beekeeping Supplies
Waggle & Forage is a friendly beekeeping supply shop and manufacturing space, based in the Macedon Ranges, Central Victoria.
Our beekeeping supply warehouse is for backyard and commercial beekeepers who love their honey bees and are passionate about slow living and sustainability.
We make commercial quantities of pure beeswax foundations, bee fondant and biosecurity tools for Varroa mite. We are also official distributors of Alliance Beekeepers Woodware (NZ) and we assemble, hot-wax dip and paint our hive ware right here in Kyneton.
Waggle & Forage sell everything from beehives, frames and foundations to tools, fondant, protective clothing, books and bee gifts.
Buy beekeeping supplies online for Australia-wide delivery or pop in and say hello in Kyneton!
Location
Waggle & Forage Beekeeping Supplies, Kyneton