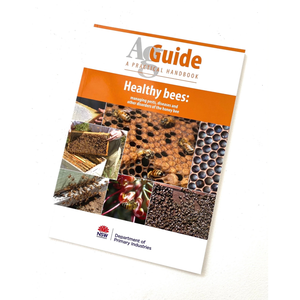 Healthy Bees - Ag Guide
This fantastic publication "Healthy Bees" is Waggle & Forages most popular Ag Guide (which say's a lot about Australian Beekeepers and how awesome they are!)
Pests and diseases can attack specific stages of the lifecycle of the honeybee. The vigilant Apiarist understands the range of diseases and disorder and takes preventative and remedial measure to manage the hive. 

This book describes the structure of the colony and what to do when things go wrong. 
This book comes from the very popular AgGuide series from the Department of Primary Industries NSW.  Waggle & Forage stock the full range of Ag Guides relating to bees.